Exciting Birdwatching Safaris in Kenya
With 11 percent of the world's bird species – some 1090 different varieties, Kenya's birding is one of the best in the world. From the world's biggest bird, the Ostrich, to flamingos that congregate in their millions at the Great Rift Valley Lakes, Kenya holds some remarkable birding sights that you have to see them to believe.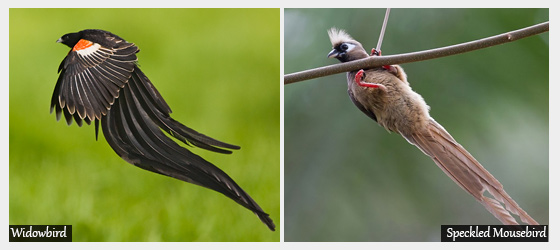 Birdwatching in Nairobi
In Nairobi, you are guaranteed to find birds everywhere you travel. A visit to the Nairobi National Park or the grounds of the National Museum is likely to turn up bright black and yellow weavers, Secretary Bird, Bustards, Mousebirds and more. In fact, Nairobi National Park has over 400 bird species including the Willow Warbler, Wood Sandpipers, Eurasian Bee-eaters, Widowbird (Sakabula).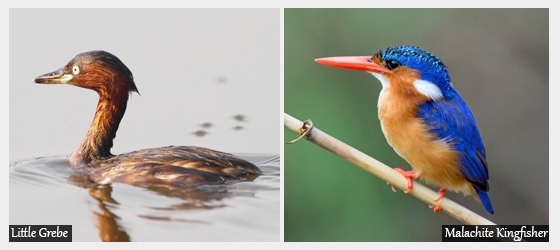 Lakes - Nakuru & Naivasha
Naivasha has over 400 recorded bird species. The lakes waters attract many waterbirds including the continent's highest concentration of African Fish Eagles, Goliath Heron, Jacanas, Pied and Malachite Kingfisher, Red-knobbed coot, Spoonbills, Little Grebe, rare Maccoa Duck, African Darters and Saddle Billed Stork.

The shores and forests of the lake are also excellent birding territory, while the cliffs of Hell's Gate National Park are an important nesting area for many raptor species.

In Lake Nakuru, besides the obvious Greater and Lesser Flamingo, popular species that can be found here include the Great White Pelican and Black necked and Little Grebe, as well as rare Martial Eagle, Lesser Kestrel and Madagascar Squacco Heron.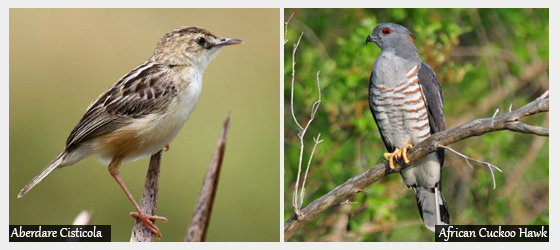 Aberdares
The bird-rich Aberdares is very popular with birders. At least 200 species have been recorded, including African Green Ibis, African Cuckoo Hawk, Cape Eagle Owl, Mountain Buzzard and Hartlaub's Turaco. Rare species include the Scarlet tufted Sunbird, long tailed Widowbird, African grass owl and the Aberdare Cisticola on the moorlands.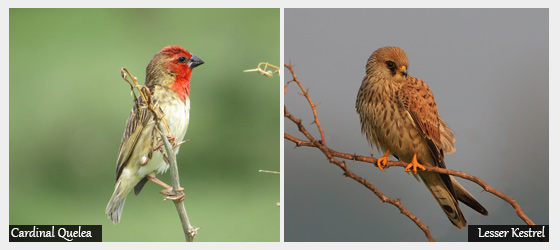 Maasai Mara Game Reserve
Besides wildlife, Maasai Mara is also famous for its rich variety of bird species. Of the over 500 recorded species, notables include the Corncrake, Grey crested Helmet Shrike, Lesser Kestrel, Madagascar Squacco Heron, Saddle Billed Stork, Cardinal Quelea, Secretary Bird, Ostrich, White headed Vulture among more common species, Lilac Breasted Roller, Yellow billed Ox pecker among the large herds, and Martial and Crowned Eagles.